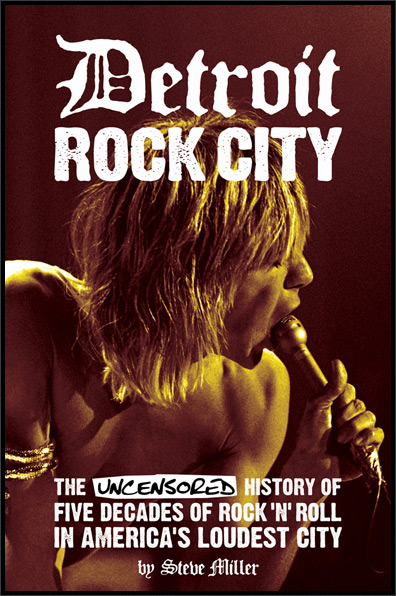 Pardon my exhaust, but this long-overdue tome proves what everyone who is anyone has known since the dawn of the decibel: that out of the smoky shadows and industrial noise of the Motor City came the highest-octane rock 'n' roll ever known to man or beast. From the highly influential Mitch Ryder, MC5, and Stooges; to the FM radio heroes Grand Funk Railroad, Bob Seger, and Ted Nugent; to the trousseau-challenged Romantics and White Stripes, there is only one metropolis worthy of the mighty mantle Detroit Rock City—and this is the story of how it earned that titular title, as told by those who made it happen!
Robert Matheu - Photographer Extraordinaire cum Michigan Music Aficionado
* * * * * *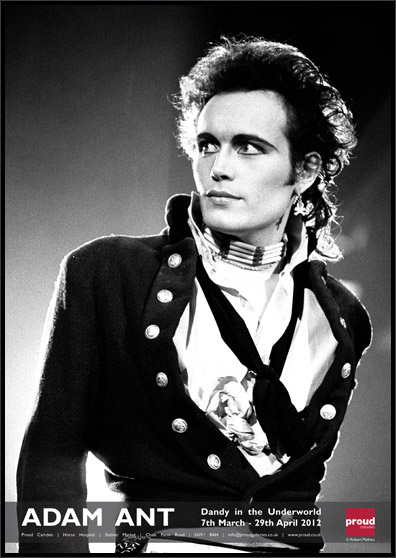 Adam Ant: Dandy in the Underworld
a collection of iconic portraits of the Post-Punk star spanning the length of his extraordinary, eccentric and eclectic career.
I am flattered to have been asked by Mr. Adam Ant personally to take part in this exhibition in London. This collection, co-curated by Adam, includes a number of my images, starting from the first moment Adam's pirate boots hit the Hollywood pavement. I was retained by Epic Records to accompany Adam during his first week in Hollywood, including all of his radio and TV appearances and his Sunset Strip debut at the Roxy Theater—a week which culminated in an exclusive studio photo session that yielded one of the most iconic portraits of that era.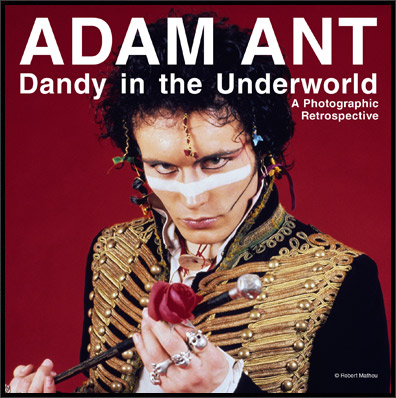 Private View and exclusive live music performance by Adam Ant in aid of DEBRA Tuesday March 6th 2012 Attendance by donation only. Exhibition runs March 7th – April 29th 2012 Proud Gallery Camden
* * * * * *
Just when you thought that
nothing
could possibly top the recent
Raw Power
projects, along comes this equally
über
Iggy Pop action figure. The iconic pose is based on a photograph I took of Iggy during the opening night of the band's London Hammersmith shows in 2010. The meticulous fine detailing was then achieved by analyzing over 100
additional
photos of the UK shows to ensure authentic rock action exactitude from the pout of the snout all the way down to the inseams of the jeans. Due to this abnormally high degree of anatomical accuracy, admittance is restricted to ages 14 and up.
Warning: Choking Hazard!
Check it out
HERE
.
* * * * * *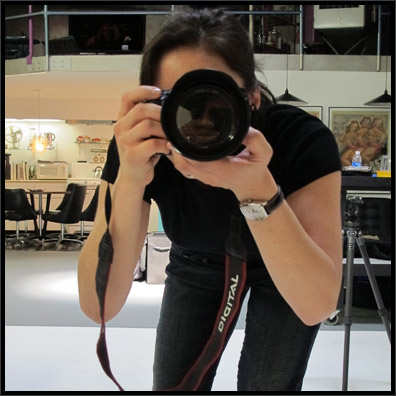 I've always prescribed to the theory that I don't care to belong to any club that will have me as a member—with one exception: Jenny Risher's labor of love,
Detroit Icons: Born In Detroit
. Jenny came to Hollywood in May to photograph me and some guy that went to high school with Axel Foley. Of course, I'd never embrace the idea of being an icon, but I indeed was born in Detroit; lived the first 18 years of my life at Warren and Southfield; attended Cody High School; and bussed to the Grande and Tartar Field. If you grew there, then you knew. Jenny knows.
Visit the Detroit Icon Facebook page
HERE
.
* * * * * *
After almost a decade being sidetracked with other projects, first by
beating a dead horse
, then a
a dark horse
, it's time that I pull something together and create a proper home for my own work. I've commenced by sharing some of my favorite fotos, many have been widely published, a few have graced album packages and others are previously unpublished. Starting with unseen gems, Stones '72, Bowie '74 and the Clash '77 as well as Iggy & the Stooges from their 2010 London gigs. Maybe we'll find room for some editorializing as well, or at least an amusing anecdote every now and then. I expect it all to culminate with the publication of an upcoming tome of my own,
The Perfect View
.
Contact me
* * * * * *
Now available, the perennial favorite, Blues Images Calendar Volume 10 for 2013 featuring Charley Patton, Blind Lemon Jefferson, Memphis Minnie, Buddie Boy Hawkins & more. Check out
BluesImages.com
for the largest collection of its kind.
Then check out the new Document Records reissues from Third Man Records, get Charley Patton, Blind Willie McTell and The Mississippi Sheiks on vinyl, where they belong!